The Budokwai is the oldest and most famous Japanese martial arts club in Europe. For a century, the club has been both a beacon of excellence and a prime mover in their development. It played a leading role in the establishment of the European Judo Union (EJU) and the International Judo Federation (IJF).
Some of the most distinguished figures in the history of the Japanese martial arts have trained or taught at the Budokwai, including many Olympic medalists. Although primarily a judo club for much of in its early days, it now embraces Shotokan Karate, Aikido and Gracie Jiu-Jitsu.
The Budokwai was founded in 1918 in Lower Grosvenor Place, along the back wall of Buckingham Palace, by Gunji Koizumi, a Japanese immigrant, who thought the promotion of Jiu-Jitsu and Ken-Jutsu (sword fighting) might help his adopted country, then immersed in the First World War. Koizumi subsequently wrote:" I hoped that rendering my service in promoting such training would be a means of pacifying my conscience, which was pricked by the fact that we Japanese, especially students, had been recipients of the kindness and hospitality generously bestowed by the people of this country, without making any tangible return."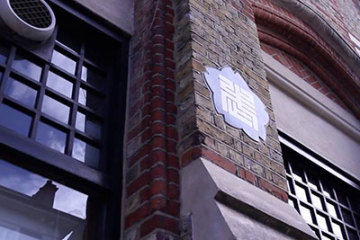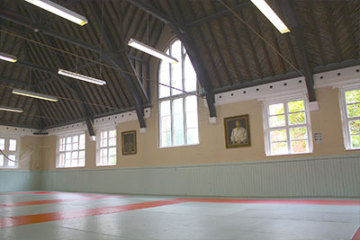 The Budokwai was founded on the ground floor and basement of what had been a German dressmaker. Work on redecorating the premises began in December 1917 and the club officially opened on Saturday, January 26, 1918, with improvised judogi (suits) and 12 members. Koizumi adopted the name of the club or, strictly speaking, society, in the following manner: bu meaning martial or military; do, way or code; kwai being society. He explained: "The society badge was designed, the character 'bu' on the background of a cherry blossom. Bu is composed of two characters, one meaning spear or fighting, the other meaning stop, indicating that the aim of martial training is to stop fighting."
An early tradition was the club's annual show, the first of which was held at the Budokwai on May 11, 1918 and attended by the Japanese Consul-General. By the end of the first year, the number of members had risen to 54 and the following June, there was the inaugural general meeting of the club. There were three main principles:
In pursuance of judo, be earnest, sincere and open-minded for mutual assistance.
Treasure chivalry, despise cowardice and esteem straight living.
Never boast of, or misuse, one's skill in judo or other arts.