The Budokwai is situated just off the Fulham Road, a hub of many exciting businesses and shops. We are proud to be in partnership with the following businesses: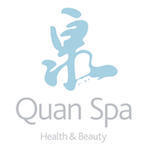 Quan Spa is boutique spa located on Fulham Road and offers a wide range of health and beauty treatments. Quan, a Chinese word meaning a source of pure water, is the perfect place to relax and indulge. 'Quan' also refers to all that is good and pure, which is the philosophy of the spa as they treat you on your journey to wholeness and well-being. All of the therapists at Quan Spa are individually chosen for their special healing skills and tranquil aura.

Whether you need a quick manicure or facial as you wait for your child's class to finish, or whether you need a massage or physiotherapy post class, you will be welcomed at Quan Spa by an expert team.

As a member of The Budokwai, you will receive a 10% discount. Please mention that you are a Budokwai member at the time of booking and present your membership card.

For a full list of treatments and to book your appointment, please consult Quan Spa , email quanspachelsea@gmail.com or call 020 7751 5568.









Information coming soon...