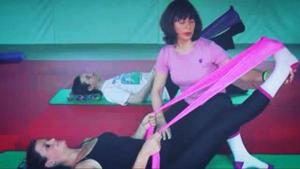 PILATES STRETCHING & STRENGTHENING EXERCISESSUNDAY 25TH OCTOBER 3-4PMBY GILLIAN GREENWOOD
This session is tailored especially towards those who train in Judo,Karate, or Brazilian Jiu-Jitsu, but any sports minded Budokwai parents are also welcome.
Gillian has created a one-off workshop of simple, yet effective stretching and strengthening exercises specifically targeting martial
arts training.
Stretchy bands will be used for some of the exercises. She will also give advice on neck/back-ache, injuries, watch points for knees, necks, lower backs.
There will be time for answering questions. Gillian is an experienced Pilates teacher. She trained in Karate with Sensai Ohta for 4 years and has an understanding of the physical requirements needed for martial arts.
She's been running 4 successful Pilates classes here at The Budokwai for 15 years.
Please send any requests for her to include in the workshop to pilates@gilliangreenwood.com
Cost: £10.00
Please book your place in at the Reception desk.