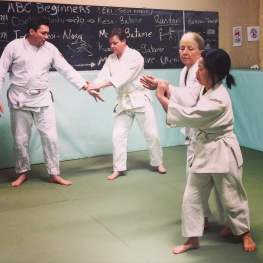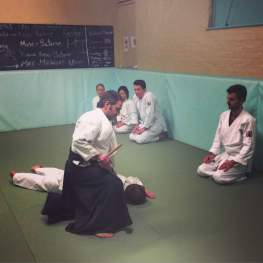 WHAT IS AIKIDO?

Aikido is a modern martial art (not a sport). It was founded by Morihei Ueshiba 1883-1969. Aikido's roots do go way back into the feudal period in Japan with the secret arts of the Samurai (Bushi). The branch of the fighting arts that was inherited by Ueshiba was that of the Aiki Ju-Jutsu of the Daito-Ryu.
Aikido has techniques against all kinds of unarmed attacks, grips, strangles, and blows as just a few. There are also techniques against armed attacks, knife, stick and swords etc. There is training in Aikido with stick against stick and sword against sword etc. Many people have heard that Aikido is purely defensive and weapon training may seem to give the lie to this.

The most important reason for weapon training is we learn the basic stances, foot and body moves used in Aikido. Two reasons for weapon training are;
To defend oneself one must study the attacks that one may be met with
In a really dangerous situation, it is logical to defend oneself with any weapon to hand against any attack where weapons are used.
All training in Aikido gradually leads us into defence skills against multiple attackers.

Mondays: General class with Sensei Justin Christou.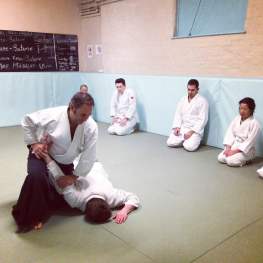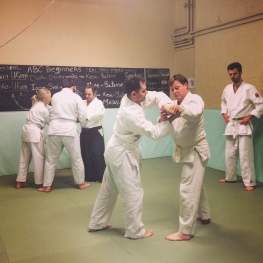 Senior Aikido annual Membership
£80
Visitors Fee
£15
per class

You are welcome to come along to the Budokwai to watch any of our Aikido classes in progress if you are interested joining. Our instructors or reception staff are always there to answer any questions you may have. You are also welcome to come and try a class for yourself by paying the visitors fee. Please wear lose clothing such as tracksuit bottoms and long sleeved t-shirt.

To become a member of the Budokwai Aikido section, simply come along to the club to fill out a membership form and pay the appropriate fee. Aikido gis (outfits) can also be purchased from reception and cost £45.




<<

Schedule for Mon 21 Jan 2019 - Sun 27 Jan 2019

>>
Mon 21 Jan 2019
Class
Instructor
Tue 22 Jan 2019
Class
Instructor
no scheduled classes or training sessions
Wed 23 Jan 2019
Class
Instructor
no scheduled classes or training sessions
Thu 24 Jan 2019
Class
Instructor
no scheduled classes or training sessions
Fri 25 Jan 2019
Class
Instructor
no scheduled classes or training sessions
Sat 26 Jan 2019
Class
Instructor
no scheduled classes or training sessions
Sun 27 Jan 2019
Class
Instructor
no scheduled classes or training sessions